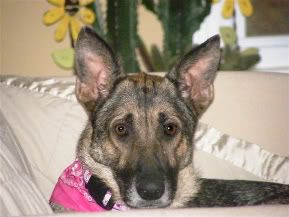 Whew!!! I am getting so tried of my humom keeping me in this box. She tells me it is for my safety. That I could get real sick if I move around to much.
I have to believe her. You see, I got really sick about three days after I got my first HW treatment shot. My tummy was all messed up. I am so much better now. I just want to play and play with my fursis. I have heard I have about seven more weeks of this. If I am not in the box, my humom has me on a leash at all times. My humom says, I am her right arm, not to worry.
My humom is looking kind of tired. She has been working really hard writng letters etc. She wants justice not just for me, but for all dogs that have met such horrible fates as I have and prevent as many in the future. She will be just fine after a good nights sleep.
I want to thank everyone that has or is planning on signing my petition for justice and spreading the word. Every signature counts and touches us deeply for the show of concern and outrage.
We have been so blessed to have met so many wonderful people. The kindness we have received has been so wonderful and gives us courage to continue pressing forward in demanding answers and justice!


We are going to try and get on this talk radio show tomorrow. The station is called blog talk radio. The show is the Pawscause, hosted by Leigh Foster. Better known as DJ Ice. She has offered to get our story out all around the world. My humom just does not understand what the media is so afraid of. Reporters seem interested in my story at first, then they seem to get scared away by someone or something. Humom says if this person or persons does not get what is coming to them at least everyone will know about it. She says you know how karma works!
This is the link to the radio show:
http://www.blogtalkradio.com/thepawzcauze
Check it out tomorrow. The show time is 4:30 we think. We are going to start calling early. We do not want to miss it.
Humom is going to try and get some new pictures of me this weekend. She will be posting a couple soon.
I am off to have my dinner now. I cannot even eat my dinner of the leash...BOL
Take care and PLEASE remember you HW monthly treat!!!
I want to also ask you to please visit and sign this petition for yet another case of K-9 handler abuse:
http://www.thepetitionsite.com/46/justice-for-k9-dogs-full-prosecution-for-sgt-charles-l-jones